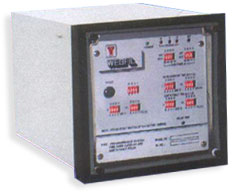 Webfil make over current and earth fault relay series are software based, non directional, time graded, phase and earth fault inverse time current/high set/definite time protection relays. They are suitable for over current, earth fault protection schemes in power distribution systems and find wide application in protection of generators, transformers, feeders, capacitors, etc.
The software based state of the art design of the relays offers a wide range of field selectable IDMTL trip-time / definite trip time characteristics. They incorporate "high-set" as an optional feature and can operate with wide auxiliary supply range.
The compact modular design in draw out case and flush mounting construction offer simplicity and ease of installation and maintenance.